PUBLIC NOTICE:
Hurricane IDA has caused extensive damage to our facilities and infrastructure. We are working diligently to restore all of the services that this office provides to our citizens. In the interim, we ask for your patience. We are working with the Judges, Law Enforcement and other Criminal Justice Agencies to get things back operational and functioning.
The facility at 118 Armour Drive will not be in service for the foreseeable future. We are moving personnel to the Courthouse Annex and to the Houma City Court building. The Courthouse Annex is not currently open to the public, however, we anticipate that it will re-open to the public on or about Monday, November 8, 2021. Our main office number (985) 873-6500 will be operational on Monday, October 4, 2021. Due to anticipated high call volume we ask for your patience and if you are unable to get through, please try again later.
Thank you.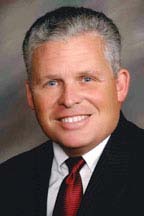 Honorable
Joseph L. Waitz, Jr.
The Office of the District Attorney handles all prosecution in the Parish of Terrebonne. This includes everything from traffic tickets to the serious cases like rape and murder.

In addition to the serious business of criminal prosecution, the Office of the District Attorney also operates many public service programs for the benefit of the community and its people. These programs include the District Attorney's Pre-trial Intervention Program, Traffic Probation, DWI Probation, Child Advocacy Program, and Victim Assistance Programs. More information about these programs is available from this website or by contacting the office of the District Attorney.
Mr. Waitz was elected District Attorney on November 5, 1996. He is currently serving his Fifth six-year term. The District Attorney has the responsibility to decide who, what, where, and when every criminal prosecution will take place within his jurisdiction.
**TRAFFIC TICKETS CAN BE PAID ONLINE**