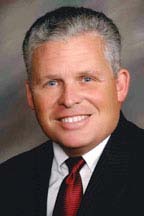 Honorable
Joseph L. Waitz, Jr.
The Office of the District Attorney handles all prosecution in the Parish of Terrebonne. This includes everything from traffic tickets to the serious cases like rape and murder.

In addition to the serious business of criminal prosecution, the Office of the District Attorney also operates many public service programs for the benefit of the community and its people. These programs include the District Attorney's Pre-trial Intervention Program, Traffic Probation, DWI Probation, Child Advocacy Program, and Victim Assistance Programs. More information about these programs is available from this website or by contacting the office of the District Attorney.
Mr. Waitz was elected District Attorney on November 5, 1996. He is currently serving his fouth six-year term. The District Attorney has the responsibility to decide who, what, where, and when every criminal prosecution will take place within his jurisdiction.
**TRAFFIC TICKETS CAN BE PAID ONLINE**
P.O. Box 3600
Houma, LA 70361-3600
Phone: (985) 873-6500
FAX: (985) 873-6510